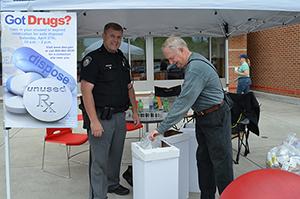 Get Rid of Unwanted Prescriptions At
National Drug Take Back Day THIS Saturday
The Johns Creek Police Department will be collecting unused or expired prescriptions This Saturday,
October 28 outside Target.
JOHNS CREEK, GA -- You will soon be able to safely dispose of your expired, unwanted or unused pharmaceutical drugs as part of the National Take-Back Initiative.
The Johns Creek Police Department will take part in the U.S. Drug Enforcement Administration's initiative from 10 a.m. to 2 p.m.
THIS Saturday, Oct. 28.
Anyone with expired, unwanted, or unused pharmaceutical controlled substances and other medicines can turn them in anonymously for safe disposal to officers stationed in the parking lot of Target, which is located at 5950 State Bridge Road in Johns Creek.
Needles and fluids will not be accepted.
The initiative, sponsored by Johns Creek police in conjunction with the DEA, is designed to:

reduce prescription drug abuse;
reduce the risk of prescription drugs entering the water (DO NOT FLUSH drugs down the toilet);
and help people comply with the law (re-disposal of prescription drugs.)
For more information, call Johns Creek Police Department's Community Services division at 678-474-1607.